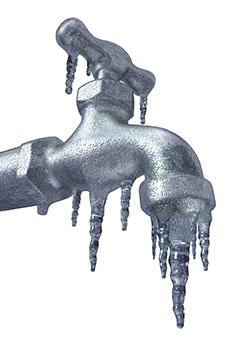 Cold Minnesota winters can damage your home in many ways. One particular issue that can cause a great deal of damage is frozen pipes. If this tragic incident occurs along with a power outage or furnace failure particularly when you are away on vacation or south for the winter, water and ice damage can ruin your home.
The good news is that there are steps you can take to prevent your pipes from freezing.
Identify Your Risk Factors
Some of your home's pipes are more prone to freezing than others because of where they are located within your home.
Problem areas to be aware of are:
Pipes located within exterior walls.
Pipes that are exposed in unheated areas of your home.
Pipes located within walls that butt up to exterior walls.
Pipes leading to outside water spigets.
Exterior Pipes
A frozen garden hose that is still attached to the spigot can aid in the freezing of interior pipes. When the water in the hose freezes the thermal transfer to the inside pipe is fairly easy to accomplish, especially since most exterior spigots are poorly insulated from the cold. If no hose is attached or the hose is drained, the typical lack of insulation can be sufficient in causing a frozen pipe.
With a frost free spigot the valve assembly is located inside the home where it is warm, typically 8 - 12 inches away from the spigot that is located on the outside of the house. The valve is attached to the spigot by a rod that is located inside the pipe. Water between the valve and the spigot drains out leaving the 8 to 12 inch section of pipe, which is nearest to the outside temperature, empty. Failing to detach your garden hose from the spigot can prevent water from draining properly. This can result in the spigot freezing and becoming damaged.
For Older Non-Frost Free Spigots
Older spigots are constructed with the valve assembly as part of the spigot and do not provide the 8 to 12 inches of drained piping that a frost free spigot offers. If you have a separate shut-off valve installed on the interior piping that leads to the spigot, close it and open the spicket to allow any water between the shut-off valve and the spigot to drain, then close it again.
For either type of spigot . . .
Install an insulated cover for the spigot, they cost very little and provide a great deal of insulation for the spigot and attached pipes. Drain the hose and put it in storage, leaving water in your hose can result in a burst garden hose.
Exposed Interior Piping
Exposed pipes located within heated areas of your home, such as the furnace room or an unfinished basement are rarely a problem. However, if the pipe is located near an exterior wall there could be enough of a cold draft to cause issues when there is insufficient insulation present. Exposed pipes that are located within unheated areas of your home, such as an attic, crawl space or garage are definitely at risk of freezing.
Try wrapping your pipes in foam pipe insulation or in particularly vulnerable areas you can use thermostatically controlled heat tape that you wrap around the pipe.
Piping Located Inside A Wall
Poorly insulated exterior walls can make it very easy for pipes within them to freeze. Even pipes located within an adjoining interior wall can freeze if the insulation is missing or severely degraded.
Repairs to pipes located within walls can be especially difficult to deal with. You must open the wall to gain access to make repairs, then repair the damage caused when opening the wall. In severe cases you may even need to consider relocating the pipe to prevent freezing in the future.
Tips & Tricks
If the weatherman is predicting a stretch of particularly frigid weather there are some preventive measures you can take to reduce the risk of your pipes freezing.
Open the cabinet doors under the sinks. No part of your house is actually airtight, this will help increase air circulation within the wall thru the holes from which the piping exits the wall.


Increase the interior temperature of your home.


Open the plumbing access panel for the problem piping and place a space heater near it.


Allow your faucets to trickle. This will keep water flowing helping to prevent it from freezing.
Take a few minutes to inspect your home's plumbing before the brutal cold settles in this winter. Identify your risk factors and make the necessary improvements to avoid frozen pipes. You can then rest snug and cozy all winter long.
For help dealing with frozen pipes or making improvements to prevent frozen pips call AEM Mechanical Services, Inc,. 320-587-0991.